Manifest Your Love Vision

Now!

 
CREATE THE

HAPPY, LOVING RELATIONSHIP

YOU WANT WITH THE

RIGHT

MAN IN 2023!
Challenge Starts January 9 – 13

Manifest Your Love Vision

Now!
CREATE THE

HAPPY, LOVING RELATIONSHIP

YOU WANT WITH THE

RIGHT

MAN IN 2023!
Challenge Starts January 9-13

READY TO MAKE 2023 THE YEAR YOU MANIFEST

EXTRAORDINARY LOVE

?

This is Your Opportunity to Break Through the Love Barriers Blocking You From Having the Love You Want and Make Your Love Vision a Reality!
BY THE END OF THIS CHALLENGE YOU'LL BE EMPOWERED TO:

E

Break through the fears, limiting beliefs, and self-sabotaging patterns that have stopped you from having the loving relationship you want

E

Create a crystal-clear vision of the loving relationship you want so that you can manifest it with power, grace, and ease

E

Develop a step-by-step plan that will enable you to live in the relationship of your dreams in 2023 and beyond
Over The Past 15 YEARS, Thousands Of Women Worldwide Have Learned the Skills to Break Through the Fears, Limiting Beliefs, and Dysfunctional Patterns And Claimed the Happy, Loving, Extraordinary Relationships They Always Dreamed Of!
"The upgrade to the VIP was amazing. It is the only way to do a

 

Challenge.

 

I was able to receive one-on-one coaching from Gladys and Michelle, which is worth 100 times the cost of the

 

small fee they require to be a VIP!

 

I was also able to

 

learn a lot from the coaching they gave to the other participants.

 

Do it! It is the best way to go!!!"
They no longer allow the people, circumstances, or heartbreaks of their past to choose the wrong men, stop them from being their authentic selves, or tolerate anything less than the extraordinary life and love they want and deserve!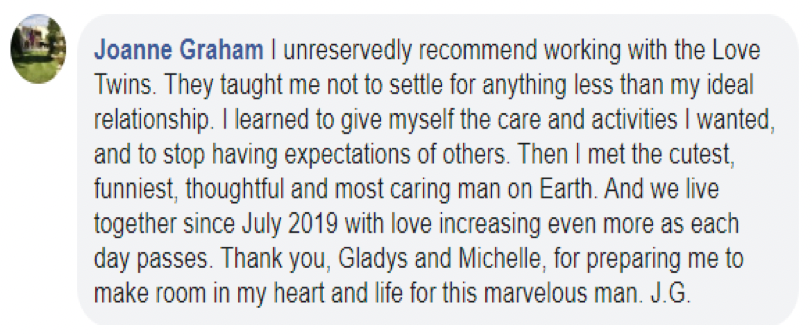 The Heart's Desire HeartWork™ Process
Learn The Exact Steps We've Taught Thousands of Women Around The World Manifest REAL Love!
Transform your conscious and subconscious thought and behavior patterns, by actively engaging in:
Powerful meditations and visualization exercises that will have you break through subconscious self-sabotaging thought and behavior patterns currently blocking you from manifesting and experiencing the love you want
Experiential exercises that impact cellular memory so that your mind and body remember the shifts created with each experience
Hands-on exercises that will have you integrate and embody the information and transformation you will be receiving and experiencing over the 3 days
Creating a plan with steps for executing your Love Vision for 2023 so that you can continue implementing newly-learned steps, skills, and ways of being, even after the challenge ends!
Opportunities to receive ongoing support to have you avoid slipping into old, sabotaging behaviors in 2023 and beyond
We went from being frustrated, heartbroken single women to attracting and keeping the love of our husbands, who have been loving us for decades! We've also helped thousands of women break through dysfunctional, self-sabotaging thought and behavior patterns so that they, too, are now living in the relationship of their dreams!
YOUR HOSTS & COACHES
Gladys Diaz & Michelle Roza
Creators of the Heart's Desire HeartWork™ Process, the Ready to Love Again and Keeping the Love Alive Programs, and co-founders of Heart's Desire International, Gladys & Michelle, and recently named on Yahoo! Finances the Top 10 Love Coaches, have coached thousands of women around the world to create the happy, loving, extraordinary relationships and lives their hearts desire!
"Ladies, the VIP Group is where the transformation happens during the Challenge. If you want to take what is taught in the program, apply it to your life, and be coached so that you can experience real transformation in the moment or see this miracle happen in the ladies that do receive coaching, then sign up for the VIP Group. It is totally worth it!"
"I wanted to let you know how much the upgrade to VIP benefitted me. There were extra sessions where we were able to ask questions directly of a coach and get those answers in real time.
This is priceless!  Thank you, Gladys and Michelle!"
BREAKING THROUGH YOUR LOVE BARRIERS RIGHT NOW COULD HAVE YOU MANIFEST THE LOVE OF YOUR DREAMS IN 2023!
Take the Manifest Your Love Vision Challenge!
Enter your name, email, and phone number below to get started.